Heating and cooling are two of the essential requirements of comfortable living. This is especially true for countries like Pakistan where you get all types of weather. However, the challenge is not just fulfilling this requirement but also keeping a tight noose on cost as inflation is constantly rising. 
Keeping that in view, DWP offers you the best heating solutions for your homes and offices. From an electric room heater to a powerful Gree heater that uses oil, we have various heating solutions to meet your requirements while being kind to your pocket. The Gree electric heater price is so affordable that every household can benefit from it. Gree has established itself as one of the leading brands in Pakistan. Their air conditioners are famous throughout the country for their performance and reliability. They have recently introduced air purifiers and heaters which are doing justice to Gree's existing reputation. The Gree electric heater and oil-filled heaters are ideal for small to large size rooms and have been selected after great scrutiny and deliberation.
Best Electric Heater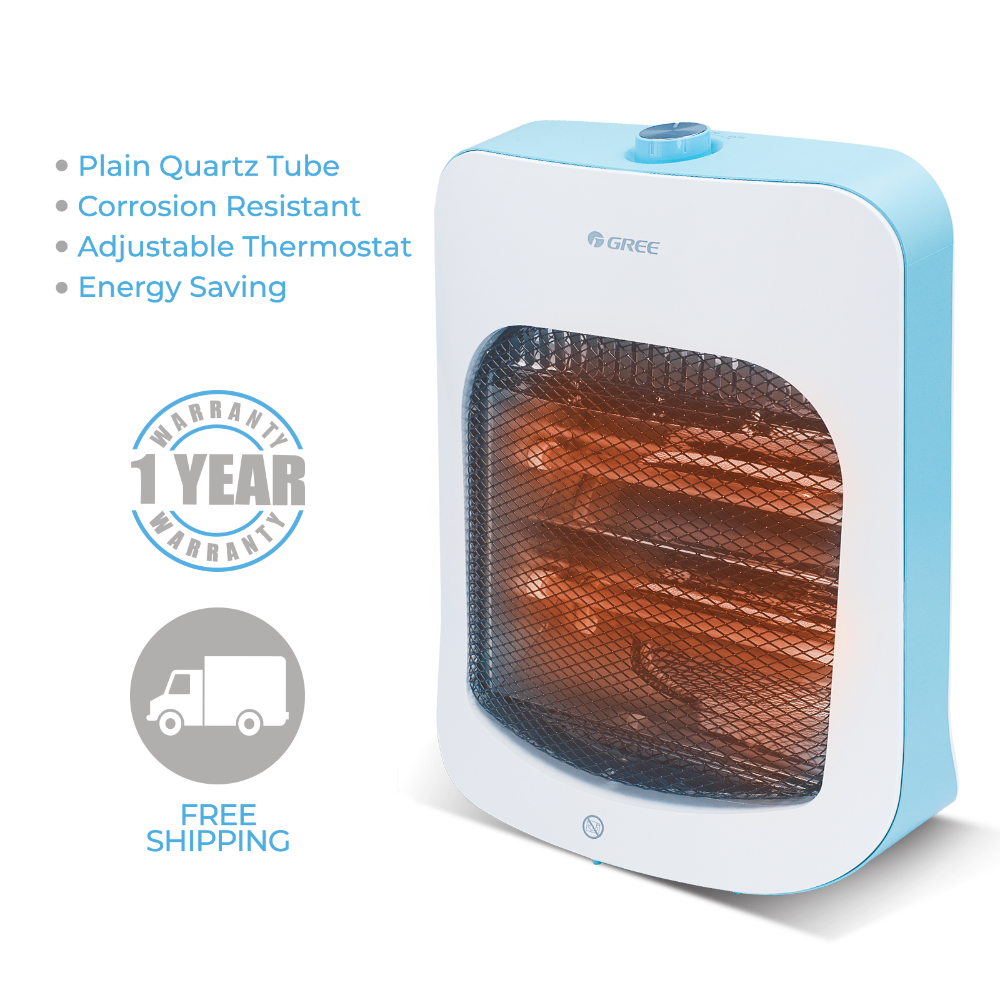 A room heater can come in handy when the weather gets cold. Most of the people in Pakistan have relied on natural gas heaters over the past few decades but that reliance has now changed a great deal. Interrupted supply and the total absence of gas during the winters are the primary reasons for this change. 
The Gree electric heater with its compact size and adequate capacity can make your room warm and cozy. Its quartz heating system reduces energy consumption while providing effective heating. It has two power modes, 400 Watts and 800 Watts, allowing you to choose just the right amount of radiation for your room. It is environment friendly and does not pollute the indoor air which is a common problem with gas heaters. These features make the Gree electric heater the best room heater. It could be yours for a price of Rs. 6,200. When it comes to room heater price, this is the most competitive rate you can get in the market. 
11 Fin Gree oil-filled Heater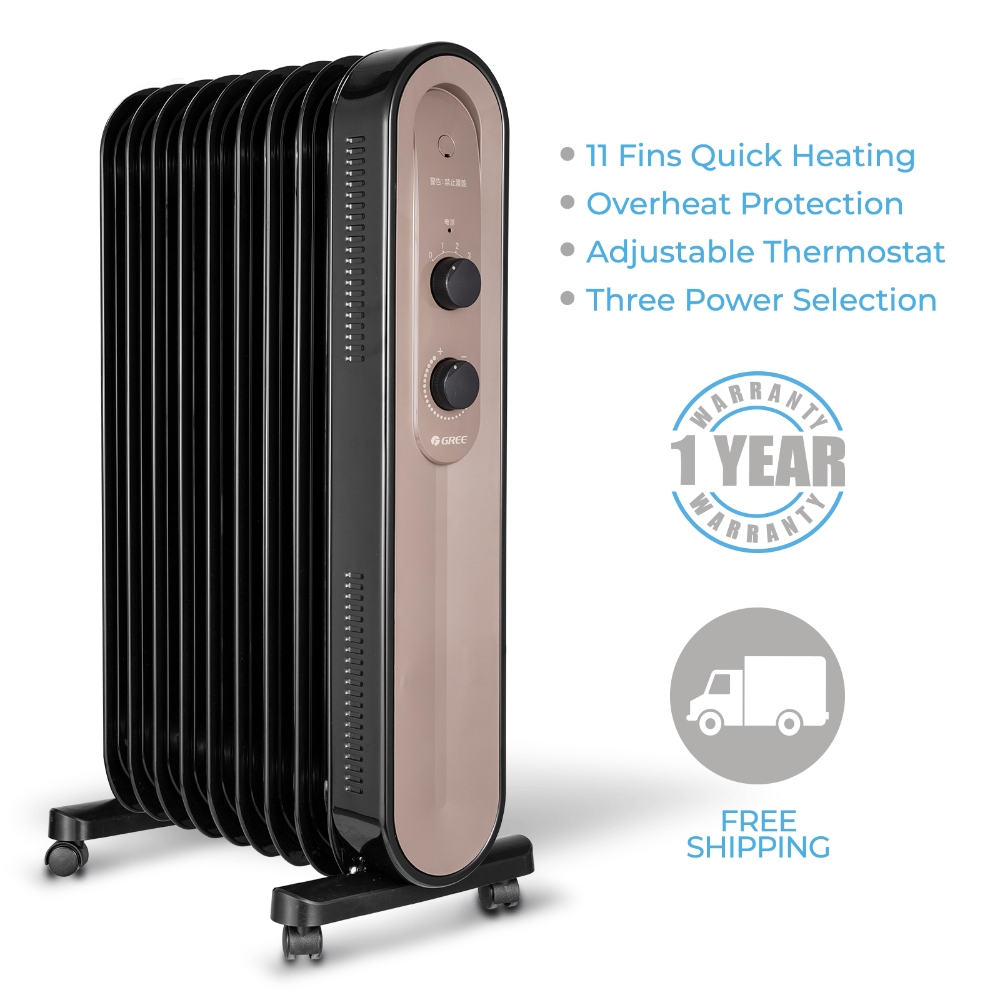 Oil-filled heaters are the latest innovation in the world of heating systems. Using electricity as the heating medium, heat energy is transferred to an oil reservoir within the oil heater. The oil heats up and radiates heat to the surrounding air, making it hot. As the air gets hotter, it gets heavier and settles down replacing the colder air. This process goes on and within a few minutes, the entire air inside your room has been uniformly heated. You may think that you will have to pay high electricity bills but the heating process is so efficient that you will have to turn off your oil filled heater after a while. 
The Gree oil filled heater with 11 fins delivers a power of 2200 watts which is sufficient to heat a medium to large size room. The heater can act as a portable heater, you can heat one room, plug it out, and plug it in another room. It has four wheels, making it convenient for you to move it from one place to another. These astounding heaters by Gree come with an adjustable thermostat, so you can not only control the temperature but also your energy cost. The 11 fin variant is available for a price of Rs.19,900. Keeping in view its incredible features, this is a good bargain.
13 Fin Gree oil-filled heater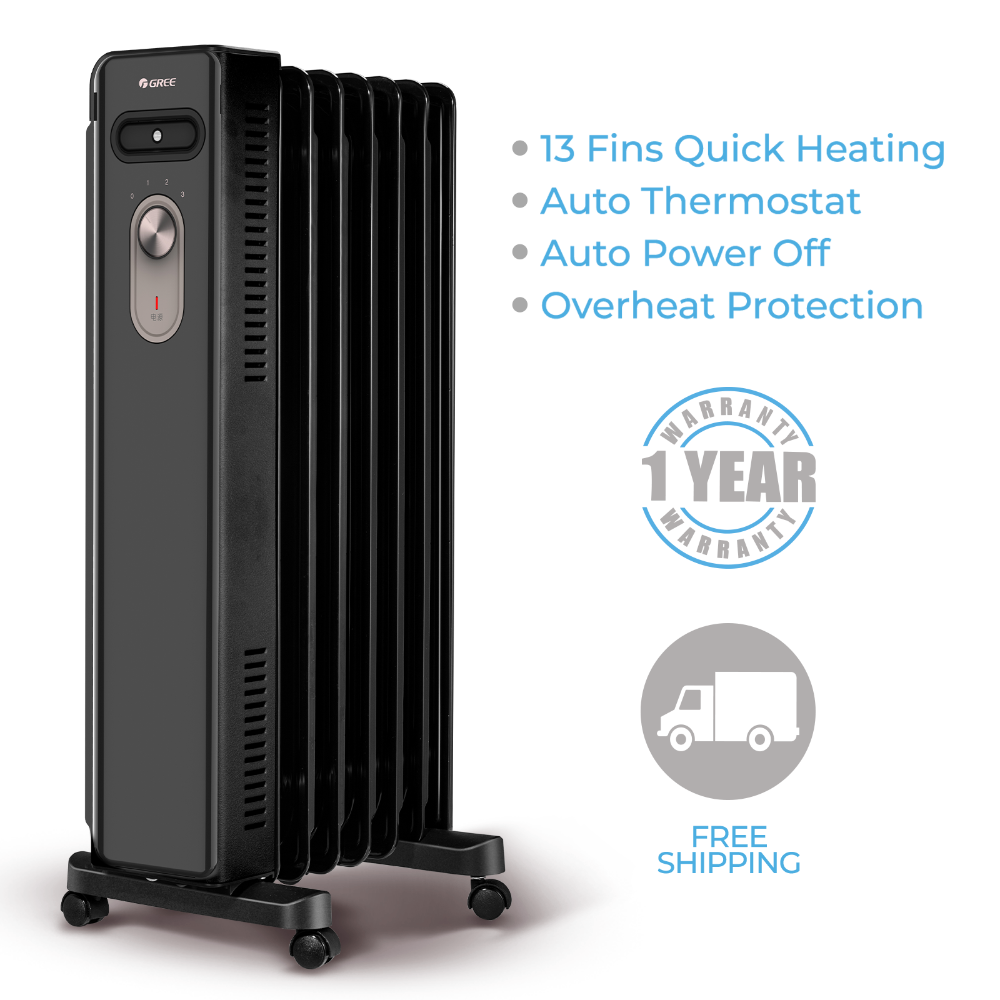 This variant of Gree oil-filled heater is similar to the one above, with the difference that it has 13 fins instead of 11. This makes it even quicker than the 11 fin variant as the surface area increases, resulting in faster heat exchange. The 13 fin variant is no small space heater. The power output of both the variants is the same but you can expect your room to reach the desired temperature much quicker with the 13-fin heater. It is the best room heater for large size rooms. 
The design of the oil filled heater is highly aesthetic and visually pleasing. It has safety features such as auto power off and overheating protection. These oil heaters also have a tip-over safety feature which means that the heater will shut off right away if it falls accidentally. A common problem with oil-based heaters is that many people complain about their noise. However, Gree oil-based filters have state-of-the-art technology for noise reduction so that you can sleep even when the heaters are on. 
You can choose from three power modes including low, medium, and high. The four wheels on its base allow you to easily take it from one room to another. The price of this heater is Rs.21,900. Both the variants of the oil-filled heaters are covered by a warranty of one year. 
Conclusion
Whether you are looking for a small electric heater or a large-capacity oil-based heater, DWP is the most trustworthy platform for consumer products you can come across. We have been providing home appliances of all sizes to the end consumers in Pakistan for years and we are known for our impeccable reputation. We have selected the best among the best so that you don't have to break your sweat searching the entire market. 
From a portable electric heater to the latest LED TV, from juicers to air conditioners, we have them all. We not only offer all the necessary appliances, but we also offer them at the best possible prices. Gree's appliances are an important part of our product portfolio and these products have stood the test of time. Their air conditioners, refrigerators, air purifiers, and now heaters have found considerable market acceptance. The brand has established a strong footing in the Pakistani market and is constantly engaged in innovation. Check out our website for the entire range of appliances including electric and oil-filled heaters, select the one that suits you best and we will deliver it to your doorstep.