Winter is not far away, and including us, everyone wants to enjoy this breezy weather without the fear of falling sick. With the advancement in technology, people nowadays mostly prefer electric heaters over conventional heaters, as they work streamlined and efficiently.
Electric room heaters are widely being used in homes, offices, and commercial places not because they ensure safety, but also the reliable heating system on which they operate. As electric heaters convert electrical energy into heat energy through the different energy transferring methods, that is why they don't require any exhaust system. 
An emerging brand in Pakistan, Gree has pocket-friendly best electric heaters. From manufacturing AC and oil-filled heaters, they have started creating electric heaters recently. Gree has gained the trust of its customers by providing the best home appliance they look for and by not compromising on the technical framework and productive specifications. 
The comfort, ease, and luxurious feel electric heaters bring along compels the clients to purchase them effortlessly. Let's see some of the best Gree's oil-filled heaters, and room heaters that are too good to be missed out!
Best Electric Room Heater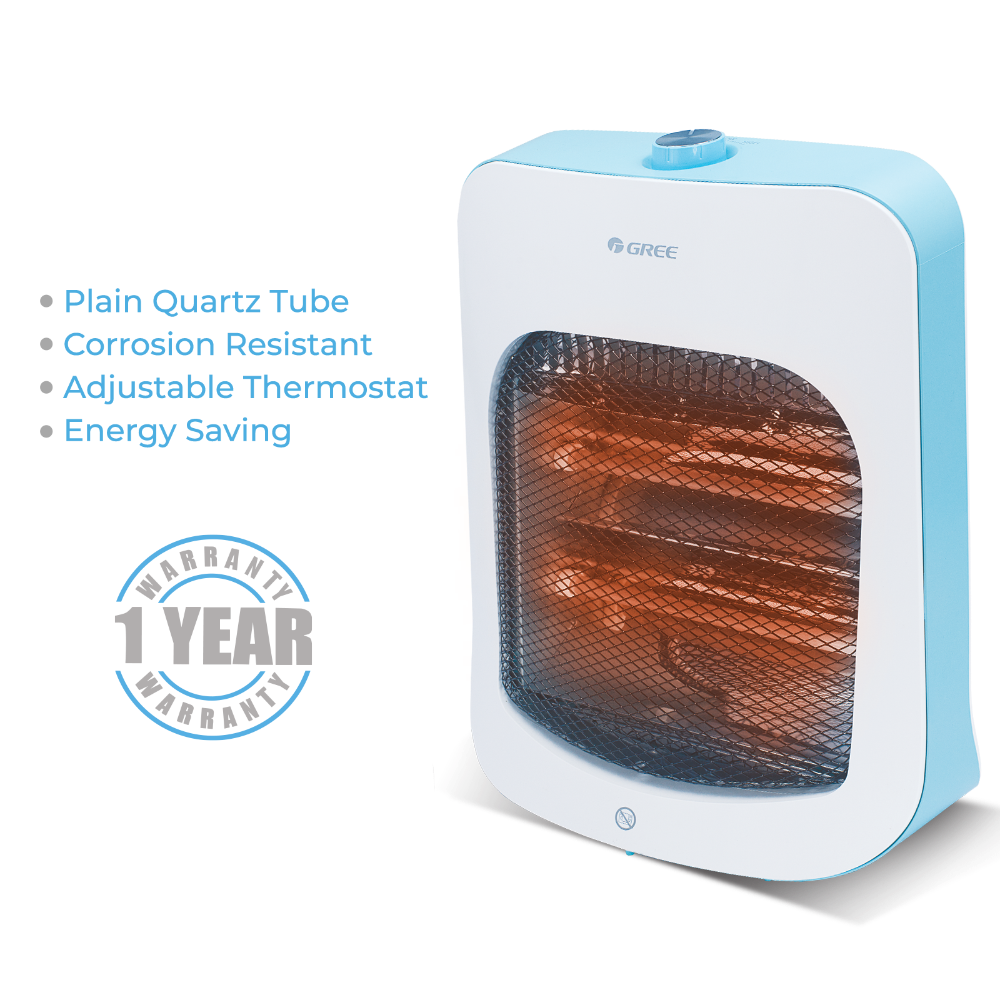 The compact size of this electric heater assists people to feel warmth in this cozy season. The embedded plain quartz tube allows this heater to withstand harsh surroundings, and its corrosive nature protects it from corrosion. 
Its small size makes it an ideal choice to be stored in small areas so that you can put it easily in the cupboard. This small space heater has an integrated design and well-structured appearance making itself elegant and stylish. 
Two power modes of 400 Watts and 800 Watts, let you select the exact amount of radiation you want in your living room.  But don't get confused, it is an excellent choice for outdoor spaces too. The adjustable thermostat provides the comfort you expect from it. This Gree heater is very environmentally friendly and doesn't let the environment be polluted by it in any case. 
This room heater's price is Rs. 6,200 making it a cost-effective option. So, when searching for the best electric heater, look for none other than this equipment, as its low wattage keeps the energy costs low. 
Gree Portable Heater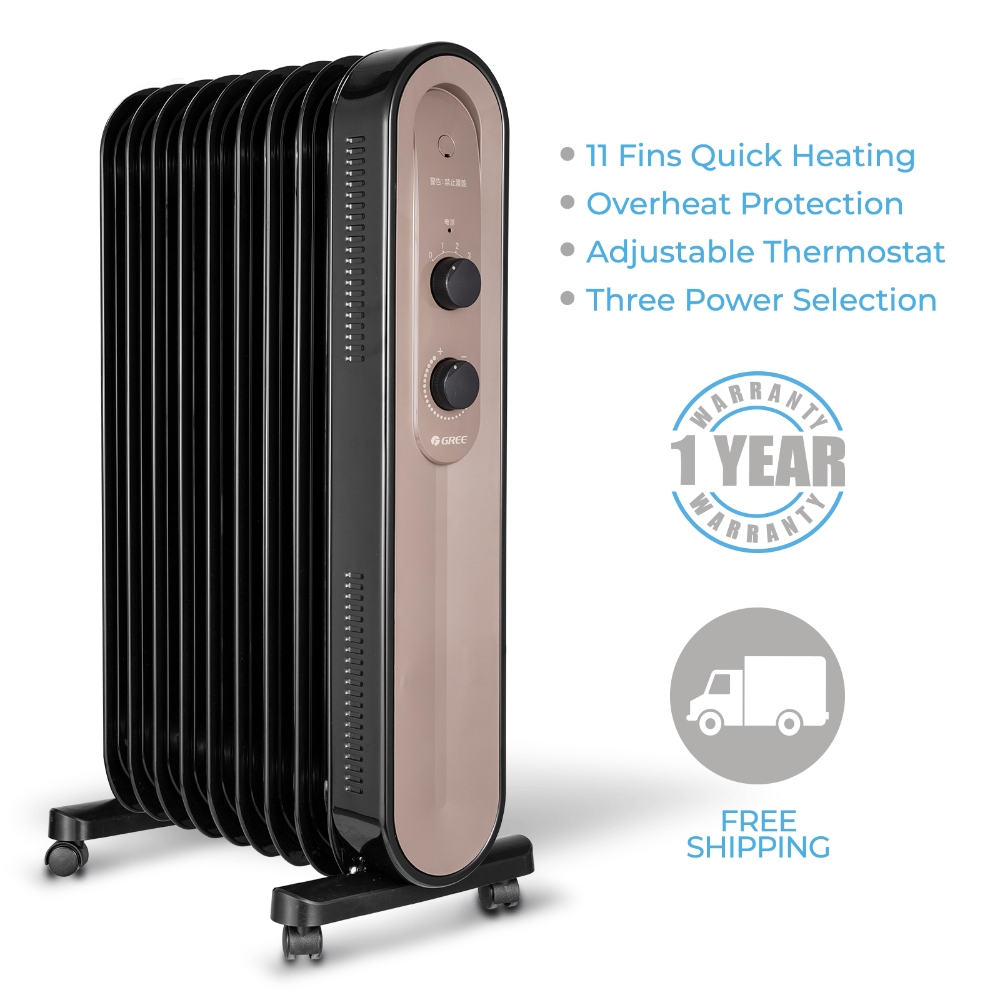 An oil heater is one of the conventional forms of heaters being vastly utilized domestically. An electric heater filled with oil doesn't burn the oil fuel, because the oil in this heater is used as a heat supplier. 
Being one of the newest innovations in electric heaters, it has three modes of power selection and gives 2200 Watts of power which is enough to warm a large living room. 
Its adjustable and sleek thermostat controls the temperature according to the surroundings as well as you allow it. When the oil gets hotter, the heater radiates nearby, and gives you a homely feel. This repetitive process adjusts your room temperature within a few minutes and allows you to enjoy your favorite movie without any tension. 
Worrying about the largest heater, the loud noise it will give? Don't worry anymore. It has nearly inaudible and very low noise. The overheating protective system of this room heater doesn't allow any damage. 
The latest tip-over switch is very beneficial when compared to other heaters, as it shuts it off automatically when it senses any potential harm. 
Besides many other benefits, it is one of the best portable heaters, as you can plug it out from the switch, and move and connect it to another room easily. Its four sturdy wheels allow you to move it without any hurdles. It is one of the best small space heaters.
And if we talk about the price of this portable heater, then it is Rs. 19,900. While looking at its specifications, incredible features, and versatile design, it is a good option to go for! 
Gree Oil Filled Heater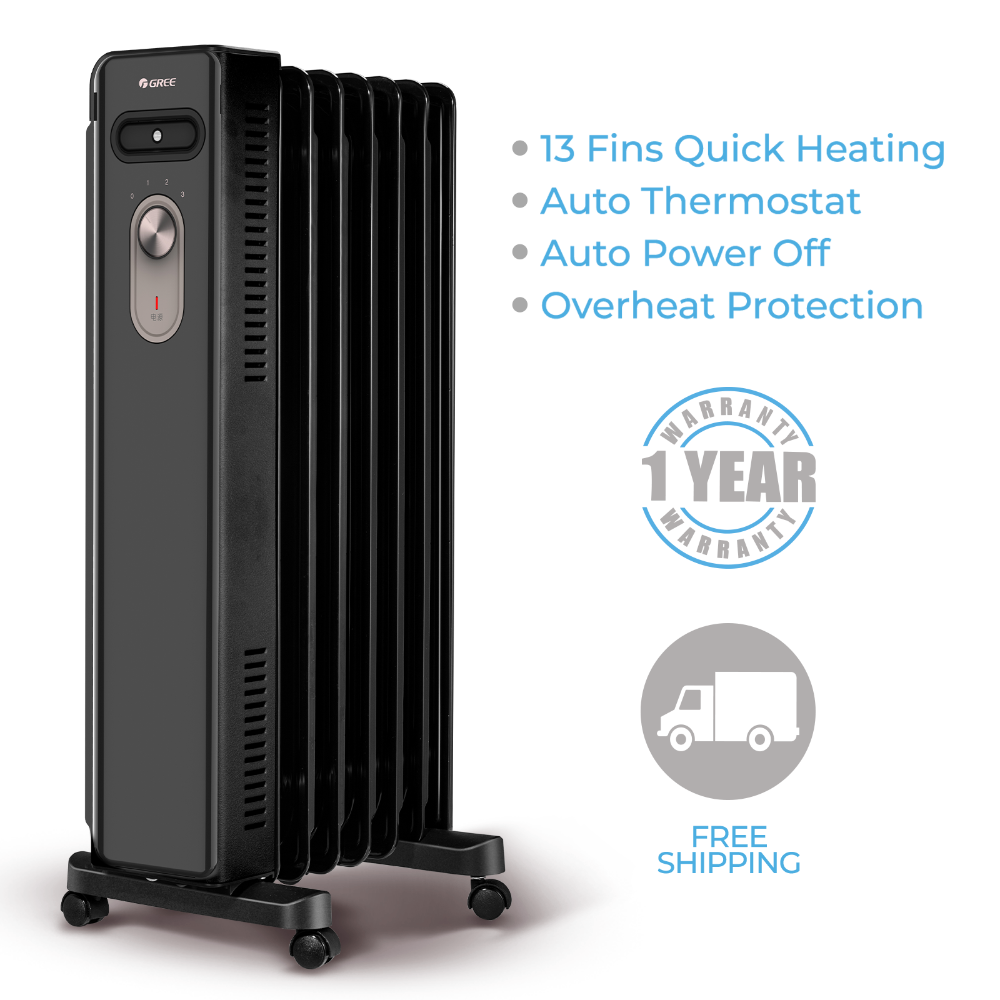 Are you searching for a low-priced heater that works effectively and provides heat according to your demand? This oil-filled heater temperatures the surroundings, pulls out the cool air, and pushes it from the fins which eventually makes your room comfy and warm in winter. 
Being one of the best room heaters, it has a very pleasant appearance, and having an LED display makes visuals and detailed information crystal clear. This Gree heater also has an overheating protective system, and with its tip-over feature it quickly turns itself off. 
The noise problem is being faced by many people who use conventional heaters, but Noise reduction technology enables this electric room heater to not produce loud noise and tries to lessen it as low as it can. 
The 13 fins variant of this room heater is very efficient when it comes to work, for example, heat exchange. By utilizing this electric room heater, your room reaches your desired temperature which results in quicker heat exchange. 
This heater is specially built for commercial uses and large living spaces, so contradictory to small electric heaters, it is generally used for broad places.
The price of this electric heater is currently Rs. 21,900 which is very affordable if you are looking for the best room heater. 
Let's Summarize
No matter if you are in search of a small space heater, or a portable electric heater, DWP would always be the reliable platform to go for. With experience in providing promising home appliances and electric equipment, we give exactly what our customers look for.